We know that each block of flats has its own unique set of risks.  Combine this with juggling the needs of your day-today business and we understand why your life is so challenging.
With more than 27 years' experience in insuring blocks of flats, we know that cover and price are important, which is why we will search our panel of well-known insurers to find a comprehensive policy at a competitive price. And it is not only your clients who benefit.
Additional benefits of block insurance from Deacon
We provide a range of services to help our agents manage and develop their business too, from CPD accredited training and white label insurance guides, to becoming a Deacon Appointed Representative. So, whether you have 2 or 200 flats in a block, a property portfolio of 5 or 500 blocks, standard and non-standard construction, call us and discover why more than 95%* of our agents renew with Deacon every year.
* 1 January 2020– 31 December 2020
Some of our partners
Products for your clients
Services for your clients
Products for your business
Services for your business
Find out more about becoming a Deacon AR
We are regulated by the Financial Conduct Authority (FCA) and as an authorised firm we are allowed, subject to agreement, to appoint and monitor Appointed Representatives (AR).  AR status offers many benefits.  For example, it removes the need and expense of applying directly to the FCA, you can conduct permitted regulated activities on our behalf, and there is no need for you to fund your own compliance team.  Contact agents@deacon.co.uk for more information.
Our customer e-letters can help keep you informed
We maintain a watchful eye on the market always looking ahead and alerting you to the issues we believe will be of interest to you. As a Deacon agent you are also invited to receive our regular e-newsletter Connect.
CPD accredited training for your team
At Deacon we support and encourage professional development in property management and our CPD accredited workshops are designed to provide property managers and their teams with an introduction to the principles of insurance for blocks of flats.
What it means to have delegated authority
You will enjoy a seamless service with Deacon's delegated authority powers.  It means we are empowered to make underwriting decisions, granted to us by our panel of well-known insurers.
We issue your insurance documentation and handle your claims, providing you and your customers with a fast and efficient service.
Create your own insurance guides
It's quick and easy to add your logo and contact details to our product and service templates to create PDFs that you can then print or email to your customers – and we'll even create the artwork for you.
Whether talking to new or existing customers, use them to help explain some of the complex issues of block insurance and the optional add-ons that can be purchased to help protect their property and, in the case of RMC directors past and present, their personal finances too.
For more information about our agent exclusive white label insurance product and service guides please email agents@deacon.co.uk
Your logo and contact details can be applied to the first and last page of more than a dozen guides,  providing you with pdfs that you can print or email to your customers.  We've shown three examples below.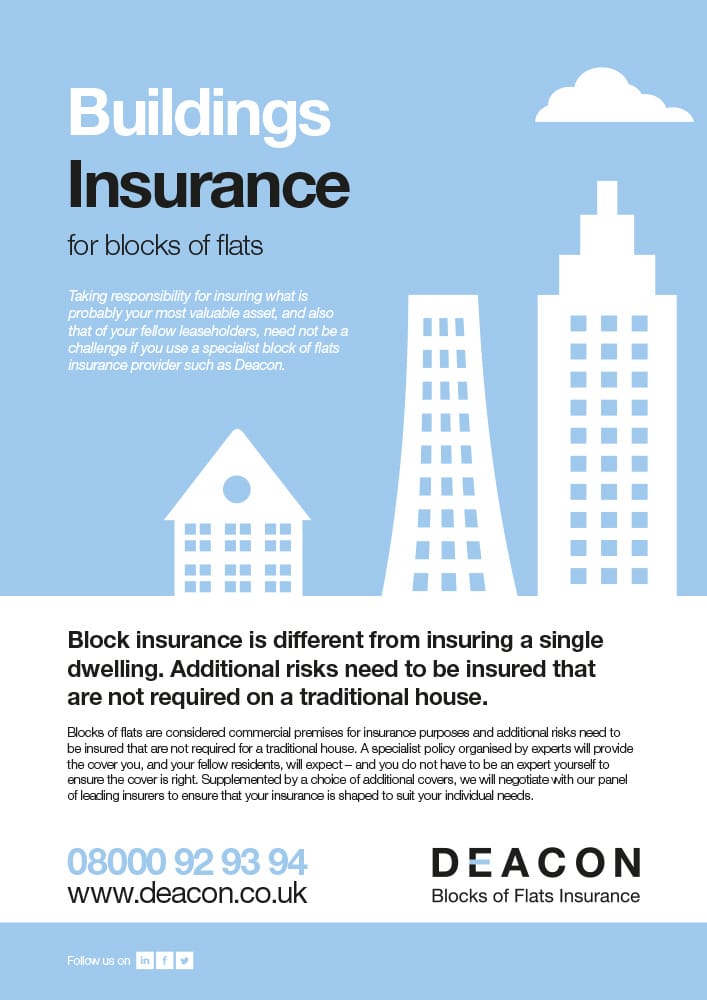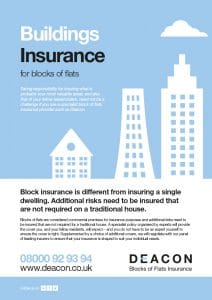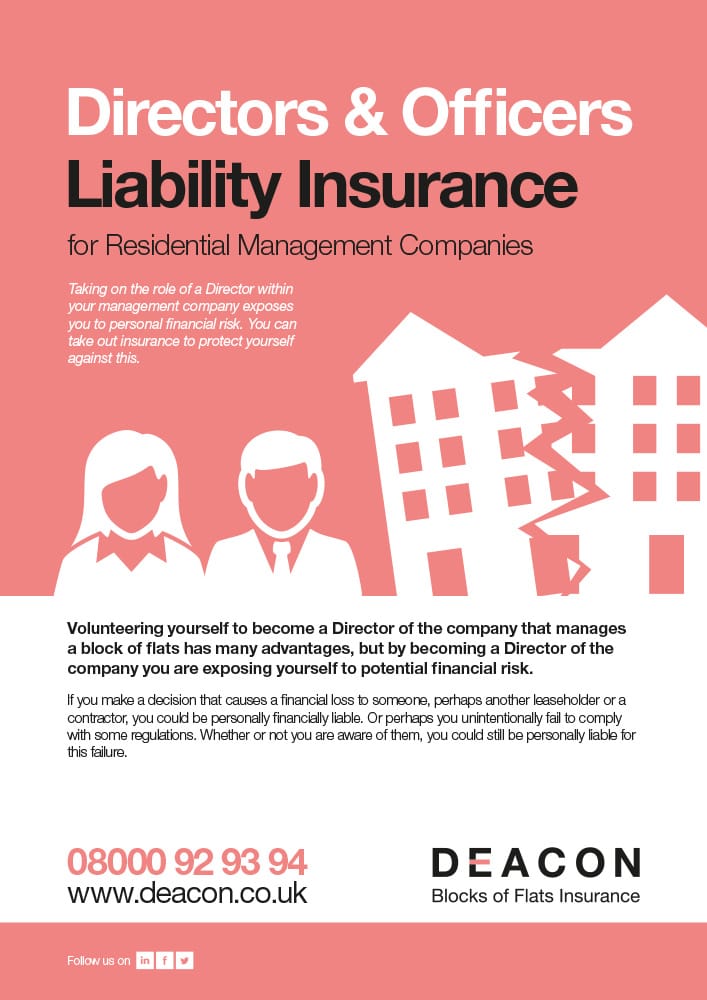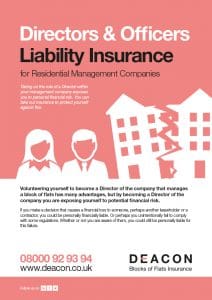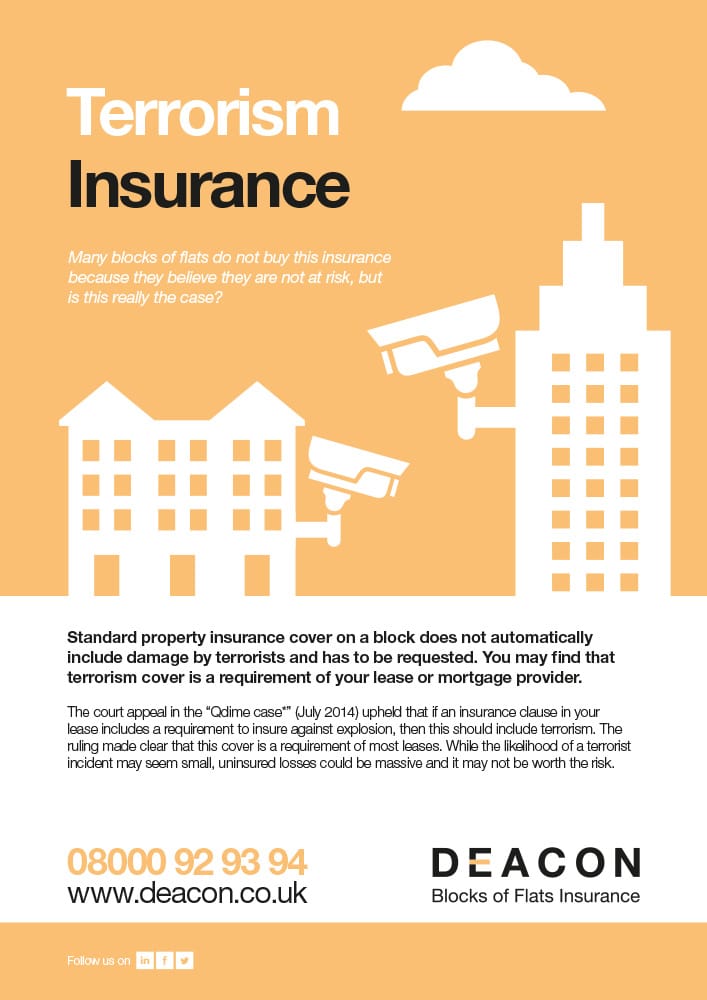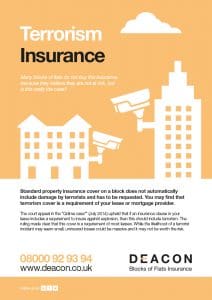 The Deacon 10 point insurance check list for property managers
Being a managing agent can be hugely rewarding, but it has its fair share of challenges too.
Our 10 point insurance health check is a great opportunity to look at all or any mix of the following to ensure you are maximising the support of your insurance partner:
Cover
Price
Insurers
Re-broking
Regulatory updates
Claims management (AGENTlink)
Claims settlement  (DA, Xactware)
Support
Training
Adding value (white label fact sheets)
For more information about our health check service please email agents@deacon.co.uk
Experienced individuals and dedicated teams
We take our time to find the right people to join our team. More than 50 talented and experienced professionals committed to providing you with exceptional levels of service.
Whether you have 2 or 200 flats in a block, a property portfolio of 1 or 100 blocks, standard and non-standard construction including listed buildings, you are supported by your own dedicated account team.
Our mission is to better understand the needs of your business, so that we are in the best position to negotiate the right level of cover at a competitive price with insurers – no more, no less.
It's probably one of the reasons why 9 out of 10* of our agents and property factors come back to Deacon year after year.
At Deacon we make it our business to get to know you and understand your business.  Each block of flats has its own unique set of risks.  Combine this with juggling the needs of customers who are as diverse as the blocks they live in, and we understand why the life of an agent is so challenging.
It's our personal approach, combined with our specialist knowledge gained over the last 27 years and exceptional levels of customer service that, our customers tell us, sets Deacon apart from anyone else in this market.
It's a commitment that extends far beyond innovative products at competitive prices.  And it's why Deacon is trusted with arranging insurance for over 14 billion pounds* worth of property from more than 500* managing agents and property factors.
* 1 Sept 2015 – 1 Sept 2016
Why Choose Deacon?
We offer you comprehensive standard cover plus optional extras.
We have more than 27 years' experience specialising in blocks of flats insurance; covering properties of standard and non-standard construction, converted properties and listed buildings as well as purpose built blocks.
As part of Arthur J. Gallagher, named one of the world's most ethical companies again in 2016 and one of the largest insurance brokers in the world, you can be confident that we will be here for you when you need us most.
Your own expert claims advisor, a member of our award-winning* claims team based in Bournemouth, will support you step-by-step from first notification to claims settlement. (*Broker Claims Team of the Year 2016)
We provide a 24 hour claims service allowing you to report a claim 24 hours a day, 365 days a year.
Frequently Asked Questions
What types of insurance does a business need?
Employers' liability cover is a mandatory business insurance requirement for every business that employs staff in the UK – even if it's only on a casual basis, as is third party motor insurance as legal minimum for any vehicles you operate.
Dependent on your industry there may be other insurances that are required by professional bodies which you must have.
There is a wide range of covers you should be considering to ensure your business is comprehensively protected, this includes (but is not limited to) the following;
Building
Contents
Professional indemnity
Business interruption.
Public and Product liability
Directors and officers
Cyber
Vehicles
What types of insurance does a property management company need?
Office building and contents insurance can cover office contents, office premises, equipment breakdown – including portable equipment – and business interruption that leads to loss of income.  Find out more here: https://deacon.co.uk/products/office-buildings-contents/
Do property managers or agents need insurance?  
There are a range of covers to choose and optional insurance to tailor cover to your exact needs.  To find out more about the types of insurance property managers may want to consider visit our fact sheet here.
If you can't find an answer above please email your question to us at info@deacon.co.uk
News for agents