Insurance Premium Tax (IPT) will increase again to 12% from June 2017.
In his Autumn Statement Philip Hammond announced that the standard rate of Insurance Premium Tax (IPT) will increase by 2% from the current 10% to 12% with effect from June 2017.
The last increase in IPT, from 9.5% to 10%, took effect on 1st October 2016.  At the time, the reaction around the Deacon office probably reflected what everyone in the industry was thinking: "How long before the next rate rise?".
According to the 'This is Money' website, the increase aims to raise an extra £680 million* in the next tax year and £840m the following year.  The last increase, in October, was introduced to raise £700 million for flood defence spending this winter**.
The June 2017 increase will affect everyone insuring property throughout the UK.    Some reports have suggested the latest increase could encourage people to under insure their property in an attempt to keep down the cost of premiums***.   This is ill-advised as it is likely to have very serious and costly repercussions should you need to make a claim.
Making the announcement Phillip Hammond said:  "Insurance premium tax in this country is lower than many other European countries."   We decided to put together this handy guide to see who's paying what…..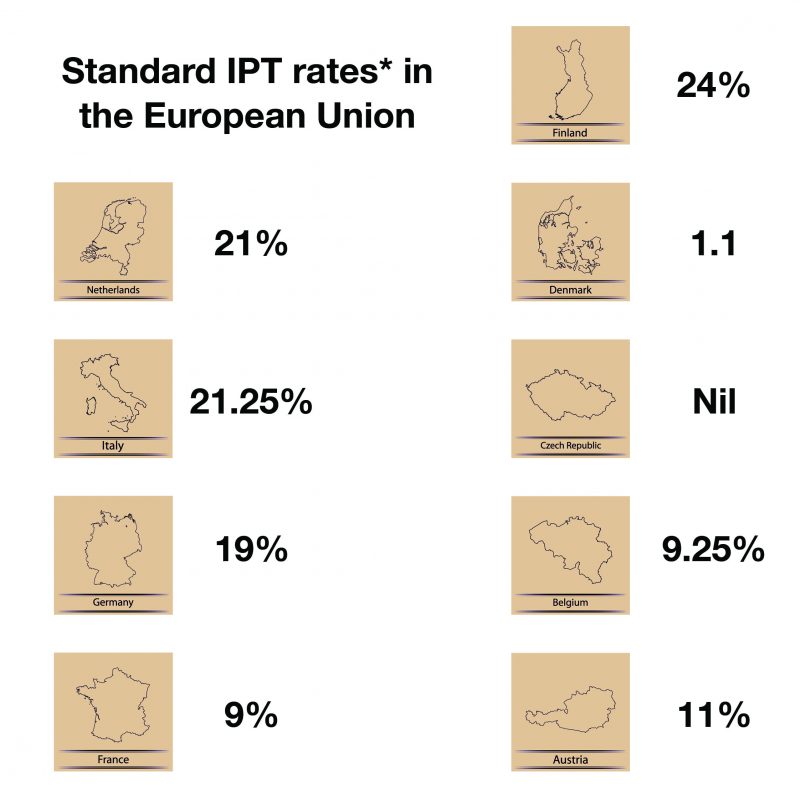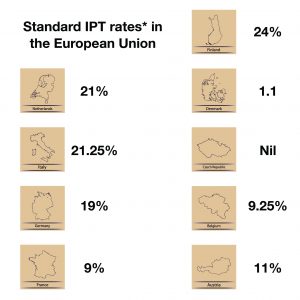 * https://www.thisismoney.co.uk/money/comment/article-3973880/JEFF-PRESTRIDGE-Chancellor-s-decision-increase-Insurance-Premium-Tax-marks-spiteful-attack-prudence.html
** http://www.nationalfloodforum.org.uk/our-response-to-the-spring-budget-2016/
*** http://www.dailymail.co.uk/wires/pa/article-3494273/Customers-ditch-insurance-IPT-hiked-ABI-warns.html
Ref: insurancage.co.uk
Reviewed 30/03/2023 – NR
FP907-2020