Request our new FREE cyber crime insurance fact sheet  
Cyber-attacks have become headline news following a number of high profile hacking cases, which has led to a greater awareness of the risks and need for cover, but it's not just the large corporates who are at risk. According to a 2015 government report, almost 1 in 4 small businesses were victims of a cyber security breach in 2015*.  Many small businesses now feel it is no longer a question of if they might suffer a breach, but when.
In a recent BBC interview with Ross Walker, Director of Symantec, he explained: "Hackers are increasingly targeting smaller, softer, less reactive targets since these provide a lower risk alternative to financial institutions." It seems the lower hanging fruit is an easier option for hackers as a wide spread opinion is 'it won't happen to me'.
As a managing agent you are likely to hold a lot of personal and sensitive data concerning your customers.  The increasing use of online portals could give hackers access to sensitive information held about individual customer accounts.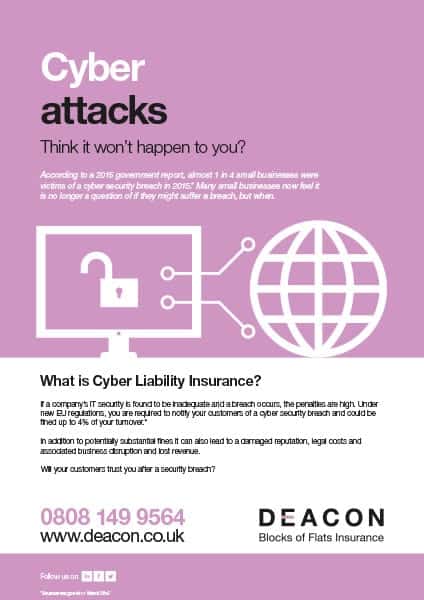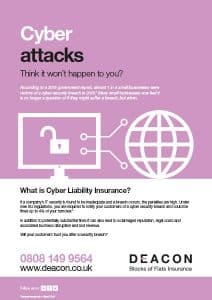 If a company's IT security is found to be inadequate and a breach occurs, the penalties are high. Under new EU regulations, you are required to notify your customers of a cyber security breach and could be fined up to 4% of your turnover*.   In addition to potentially substantial fines it can also lead to a damaged reputation, legal costs and associated business disruption and lost revenue.
We work with well-known insurers and can provide competitive and comprehensive cyber insurance.  This covers you against financial losses and third party liabilities up to the limits chosen arising from cyber attacks.
For a copy of our 'Cyber attacks – think it won't happen to you?' fact sheet call us on 01202 449 612 or email agents@deacon.co.uk
You can find out more about personal and sensitive data at the Information Commissioner's Office. www.ico.org.uk