Insuring a block of flats or apartments, or an estate of leasehold properties, is very different from insuring a single dwelling.
For a start, blocks of flats are considered commercial premises for insurance purposes and additional risks need to be insured that are not required for a traditional house.
A policy developed by specialists will provide the cover you, and your fellow residents, are most likely to need – and you do not have to be an expert yourself to ensure the cover is right.
Supplemented by a choice of additional covers, we will negotiate with our panel of well-known insurers to ensure that your insurance is shaped to suit your individual needs.
You won't find our products on comparison sites and getting a quote is easy.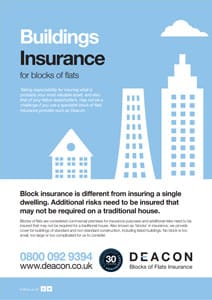 For full terms and conditions please refer to the policy wording available on request.