Cyber insurance covers the losses relating to damage to, or loss of information from, IT systems and networks.
The policy includes significant assistance with and management of the incident itself, which can be essential when faced with reputational damage or regulatory enforcement.
As a business, you will rely on information technology (IT) infrastructure to some degree. As a result, you are exposed to the risks of business interruption, income loss, damage management and repair, and possibly reputational damage if IT equipment or systems fail or are interrupted (breached).
A UK Government survey estimated that in 2014 81% of large corporations and 60% of small businesses suffered a cyber breach. The average cost of a cyber-security breach is £600k-£1.15m for large businesses and £65k-115k for SMEs.
While existing insurance policies such as commercial property, business interruption or professional indemnity insurance, may provide some elements of cover against cyber risks, businesses are increasingly buying specialised cyber insurance policies to supplement their existing insurance arrangements, particularly if, like you, they hold:
• sensitive customer details such as names and addresses or banking information;
• rely heavily on IT systems and websites to conduct their business;
• process payment card information as a matter of course.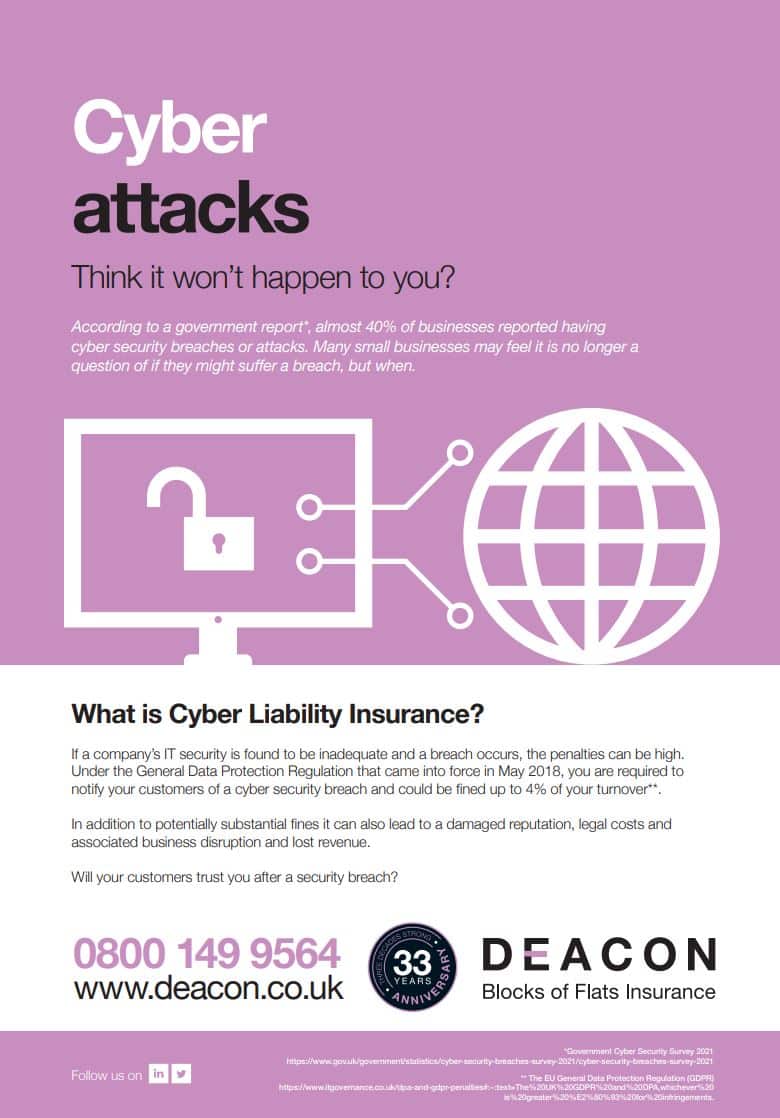 For full terms and conditions please refer to the policy wording available on request. A broad range of cyber cover protection is offered and specialist advice at a time convenient to you. As with all insurance policies, the policy is subject to limits, conditions and exclusions. For full terms and conditions please refer to the policy wording available on request. This document does not purport to be comprehensive or to give legal advice. While every effort has been made to ensure accuracy, Deacon cannot be held liable for any errors, omissions or inaccuracies contained within the document. Readers are always recommended to take further professional advice before making any decisions. * From Common Cyber Attacks: Reducing the Impact, from the CESG The Information Security Arm of GCHQ https://www.ncsc.gov.uk/content/files/protected_files/guidance_files/common_cyber_attacks_2016.pdf