Handy tips for blocks of flats
If you are the Director of a residential management company or residents association, or if you are responsible for managing a property on their behalf, are you aware of your legal responsibilities for electrical safety in the communal areas of your block?
Communal areas include but are not limited to:
Entrance halls and foyers
Stairwells
Landings
Laundry rooms
Parking areas
Gardens
Pathways
Refuse areas
Leisure facilities such as pools or gyms
And remember, electrical safety is not just about protecting an individual from the dangers of an electric shock.  An overloaded circuit or faulty electrical wiring, for example, could cause a fire.
Moreover, you also have a 'common duty of care' for anyone who visits the property.  For example, if a tradesman is working on your property and slips on a spillage that leads to injury, you could be liable.
Walk the building
The first step to maintaining electrical safety is to do a risk assessment and identify the hazards.
Walk the building and look for broken accessories, such as sockets, damaged plugs and other electrical hazards that might pose a risk to life and/or the building.
Examples of other electrical hazards include the extensive use of trailing leads, incorrect placement of heat sources and missing covers from wiring systems and electrical switches.
Where such hazards are identified you have a duty of care to put the situation right as soon as practicable, even if the next periodic inspection of the electrical installation is not due for several months.
Keep a record of what you have found and done to make safe any hazards.  If required, you will then have evidence that you have a system in place to identify potential hazards and remove them as soon as possible.
Faulty electrical installations may cause a fire, so it's important to ensure the property is compliant with current fire risk assessment legislation and equipped with appropriate fire-fighting equipment, such as fire extinguishers, as well as fire detectors and alarms.
To read more about Fire Risk Assessments you can download Deacon's free guide here*
Where to go for more advice
Electrical work in communal areas of residential premises falls within the scope of Part P of the Building Regulations.
The Electrical Safety Council recommends electrical installations should be inspected at least every five years by a competent person or business, registered with one of the following government approved self-certification schemes: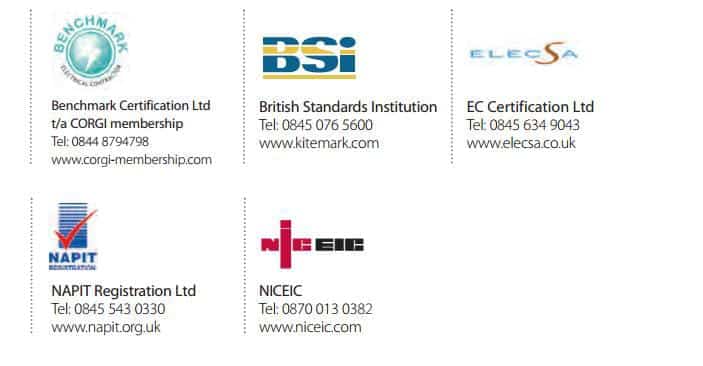 Always keep all your Health & Safety certificates safe, one day you may need them as supporting evidence for an insurance claim.  These include but are not exclusive to:
Electrical installation certificate
Electrical installation condition report
Fire risk assessment
Health & Safety risk assessment
Asbestos heck
Smoke and carbon dioxide alarms
*https://deacon.co.ukwp-content/uploads/2016/08/6895_1_Fire-Risk-fact-sheet-1.pdf